Peer Review Week 2018 – Diversity in Peer Review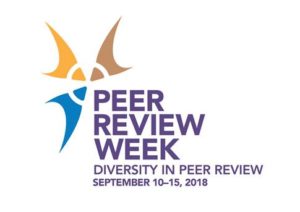 2018 is the year of diversity and inclusion in peer review. The goal of Peer Review Week 2018, held 10-15 September 2018, is to raise awareness and explore issues surrounding diversity in peer review and what this means for researchers, for funders, and others concerned with peer review.
 Joint activities
How you can join in with Peer Review Week
Featured Issue
Explore a new Thematic Issue on C1 Metabolism from FEMS Microbiology Letters. One-carbon or "C1" metabolism has been studied for many years and in several different forms. This Thematic Issue brings together new research and covers several different subtopics. This issue includes studies on aerobic microorganisms in marine environments, methylotrophic methanogens, hydrogenotrophic methanogens, hemerythrins, methane in forest soils, and methanogenic archaea in peatlands.
read more