If you are a parent you may have experienced this dilemma more than once: you want to go to a meeting abroad, but it is difficult to arrange child care.We are therefore happy to take away this hurdle that many scientists face and pilot child care services for delegates at FEMS2019.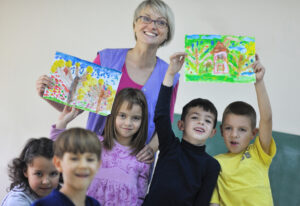 We have teamed up with Nipperbout and Crowne Plaza hotel to provide a childcare facilities for all children between the ages of 0 to 12 year. We will offer these childcare services on a first come, first served basis. We ask for a contribution in the costs of the child care of 60 GBP per day.
Are you coming to FEMS2019 and do you want to make use of the child care? Then register or revisit your registration and add the relevant childcare tickets to your registration. You can register for child care until 7 June 2019. Whether you use the child care we offer or have arranged child care elsewhere, your children are allowed to access the exhibition area SEC so you can join each other for lunch.