Sign up and win!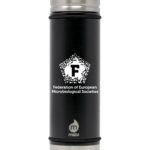 Whether you looking for volunteering opportunities, grants, or the latest microbiology research, there is always a FEMS newsletter for you. On the occasion of the 16th European Conference on Fungal Genetics (ECFG16), we now have a special raffle linked to the FEMS newsletters.
By signing up for one of our newsletters via the below links, you automatically enter in a raffle to win a FEMS thermos. We will contact the winner at the end of the conference and hand them their prize at the FEMS Booth.
Good luck!
Sign up for content alerts from FEMS journals

Featured Issue
FEMS Microbes is excited to present its latest thematic issue, focusing on bacterial-viral co-infections. Host and microbial factors are critically important for influencing the severity and outcome of infection. Interactions between microbes is an understudied yet important aspect to this process.
read more