Volunteer: Maria Bonatelli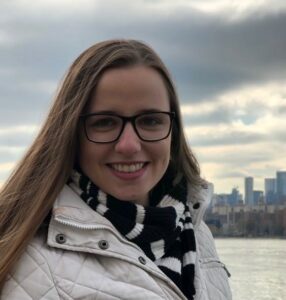 Maria is a Biologist from Brazil and she did her Master and PhD degrees at University of São Paulo/ Luiz de Queiroz College of Agriculture (Usp/Esalq). Throughout her academical training she have been working on understanding how microorganisms interact with the world – and among themselves, in different contexts. She is currently a postdoc fellow in Maria Carolina Quecine-Verdi's lab at Usp/Esalq, Brazil. Her research focus on plant-microbe interaction to improve agricultural practices.
Maria is also very passionate about science communication. She is a scientific journalism specialist from University of Campinas, Brazil. She collaborated with different scicomm projects – from blogs to podcast – and currently she is a member of DivulgaMicro, a project that focus on empowering scientists in scicomm skills.
LinkedIn: https://www.linkedin.com/in/marial-bonatelli/
Google Scholar: https://scholar.google.com/citations?user=GX8hiZIAAAAJ&hl=pt-BR
More information about DivulgaMicro: Oliveira et al. 2019 (doi: 10.1128/jmbe.v20i1.1616) or http://divulgamicro.com.br/en/index.html
Featured Issue
Explore a new Thematic Issue on the greater wax moth, 
Galleria mellonella
from
Pathogens and Disease.
 This issue includes reviews and research on insect immune systems and the use of
Galleria mellonella 
as a model organism for assessing the virulence of bacterial pathogens and the effectiveness of antimicrobial agents.
read more