Volunteer: Elena Conti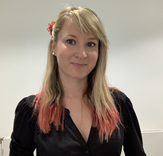 Elena Conti completed her MSc on Molecular and Cellular Biology in Italy (2014) on the gut microbiota in murine models. She started her PhD, which is sponsored by Tenovus Scotland, at the Rowett Institute, University of Aberdeen in October 2016 and will finish in September 2020. Her project aims to investigate the mechanisms underpinning the links between diet, the intestinal human microbiota and health.
Keywords
Human Gut Microbiota, Colonisation resistance, Secondary metabolites, Genome mining, Diet
Featured Issue
FEMS Microbes is excited to present its latest thematic issue, focusing on bacterial-viral co-infections. Host and microbial factors are critically important for influencing the severity and outcome of infection. Interactions between microbes is an understudied yet important aspect to this process.
read more