Volunteer: Elena Conti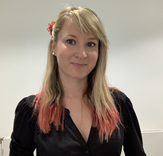 Elena Conti completed her MSc on Molecular and Cellular Biology in Italy (2014) on the gut microbiota in murine models. She started her PhD, which is sponsored by Tenovus Scotland, at the Rowett Institute, University of Aberdeen in October 2016 and will finish in September 2020. Her project aims to investigate the mechanisms underpinning the links between diet, the intestinal human microbiota and health.
Keywords
Human Gut Microbiota, Colonisation resistance, Secondary metabolites, Genome mining, Diet
Featured Issue
This Thematic Issue from FEMS Yeast Research comprises papers published in the past year by attendees at the ICY15/ICYGMB30 conference. These comprise original articles, reviews and perspective pieces. At the time of the conference ~15 articles have already been published with more in-train. The call for papers has been extended to 30th September for submission of original research papers by an attendee at the conference (presenting or corresponding author). As the yeast community journal, it is appropriate that FEMS Yeast Research is publishing this special issue to mark the first joint congress between these two large (and overlapping) yeast communities.
read more