Sponsoring and Advertising
Advertising in our journals
The FEMS Journals are highly-respected by microbiologists around the world. Their articles were downloaded worldwide over 2,6 million times in 2017. They provide the perfect opportunity to reach your target market with a range of advertising opportunities across the journal portfolio.
You can find information about advertising in our journals via the below links or by contacting Naomi Reeves via email or phone: + 44 (0) 1865 355396.
S
ponsoring and exhibiting at FEMS2021
Our Congress is one of the leading meetings of its kind that connects thousands of microbiologists from around the world. It features symposia and workshops led by prominent scientists in their respective fields. The goal of this international gathering is to provide a comprehensive forum for the exploration and discussion of various topics in microbiology. Our congresses usually attract ~2000 attendees and are made possible with great thanks to our sponsors and exhibitors.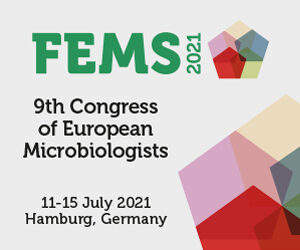 Our next Congress, FEMS2021, will be held from 11 – 15 July 2021, in Hamburg (Germany) in collaboration with the Deutsche Gesellschaft für Hygiene und Mikrobiologie.
For support and exhibition opportunities, please email Niels Fibaek Bertel.
Featured article
AMR three ways: healthcare crisis, major concepts and the relevance of biofilms
Worldwide, infections are resuming their role as highly effective killing diseases, as current treatments are failing to respond to the growing problem of antimicrobial resistance (AMR). In this minireview, the impact of AMR in healthcare systems and the major bacteria behind it are highlighted. Ecological aspects of AMR evolution and the complexity of its molecular mechanisms are explained. Major concepts, such as intrinsic, acquired and adaptive resistance, as well as tolerance and heteroresistance, are also clarified. More importantly, the problematic of biofilms and their role in AMR, namely their main resistance and tolerance mechanisms, are elucidated. Finally, some of the most promising anti-biofilm strategies being investigated are reviewed.
read more