Sponsoring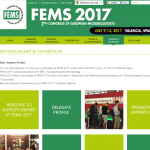 The 7th Congress of European Microbiologists (FEMS2017) is one of the leading meetings of its kind and will connect thousands of microbiologists from around the world.
FEMS2017 will feature symposia and workshops led by prominent scientists in their respective fields. The goal of this international gathering is to provide a comprehensive forum for the exploration and discussion of various topics in microbiology.
FEMS2017 will be held 9-13 July 2017 in Valencia, Spain.
Sponsoring and exhibition at FEMS2017
The FEMS2017 Congress Support & Exhibition Prospectus is available via this link.
For partnership and sponsorship opportunities please contact Goda Sporn by email
For support and exhibition opportunities, please contact Kenneth Johansen by email