Grants
COVID-19 update: as an increasing number of conferences, society meetings and congresses are moving into online events, FEMS has opened the Meeting Organizer Grants (MOG) to support both virtual and in-person meetings. 
Members of FEMS Member Societies can apply for grants for research and training, or for support when organizing or attending a meeting – including our Member Societies' national and regional congresses. Every year we support meeting organizers and early career researchers and enable experts to share ideas and promote excellence in science. You do not need to be a member of a FEMS Member Society to apply for a Congress Attendance Grant.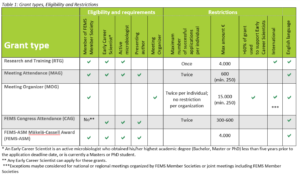 Our definition of fields that grants can apply to includes microbiology research, education, policy, business and scientific communication. Further information about the grant opportunities we provide, including application deadlines, can be found on the following pages:
APPLY FOR A GRANT
To submit a grant application, please apply via FEMS Grants Online. The summary above outlines the information on eligibility. Links to the documents required to support your application are below.  
DOCUMENTS
When applying for a FEMS Grant, please see the Grants Regulations. During the application process, we will ask you to complete and upload supporting documents. You can find all of these templates in the table below.
Featured Issue
FEMS Microbiology Reviews presents a Thematic Issue on Microscopy Revolution. This Thematic Issue explores how advances in imaging techniques are helping to further our understand the microbial world around us. The articles in this collection cover a range of topics including RNA imaging in bacteria, bacterial translesion synthesis, stress responses, and super-resolution imaging of pathogens.
read more