Congress and Events

We run several events each year that bring scientists together from across the world:
The 9th Congress of European Microbiologists (FEMS 2021) is one of the leading meetings of its kind and will connect thousands of microbiologists from around the world.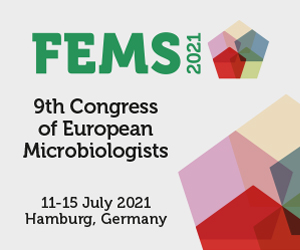 Our vision is to:
preserve scientific excellence and trust
diversify, improve and extend networking opportunities
provide a platform for established researchers, students and other parties to discuss and exchange knowledge
improve links with professional development
improve the offer for sponsors and exhibitors
combine the transdisciplinary advantages of a large congress with the disciplinary detail and networking atmosphere of a small specialist conference
improve opportunities and benefits for our Member Societies
See previous congress dates and locations.
Our focus is on promoting and connecting scientific excellence, facilitating diversity, and building momentum for public outreach, education, and communications projects. This involves developing relationships across all disciplines relating to microbiology and across all sectors – academic, policy, business, educational, communications and recreational – and helping to put the right people "in the same room".
The official hashtag for the event is: #FEMS2021
Sponsoring and exhibition
For support and exhibition opportunities, please contact Niels Fibaek Bertel by email.
Featured Issue
Ecology and Physiology of Halophilic Microorganisms
This Thematic Issue of FEMS Microbiology Letters contains eight papers based on oral presentations or posters presented at the 12th International Conference on Halophilic Microorganisms – Halophiles 2019, in Cluj-Napoca, Romania. The location for the event recognizes the great diversity of hypersaline environments in Romania and the rich history of the exploration of the microbial diversity in those environments. This Thematic Issue explores the latest developments on the microorganisms living in these unique environments.
read more