FEMS-Lwoff Award
Launched in 2000, the FEMS-Lwoff Award rewards those that create high quality knowledge that helps to solve today's societal problems around microbiology. It was named in honour of the 1st FEMS President (1974-1976), Professor André M. Lwoff.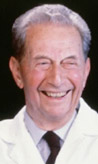 Winners receive:
a prize-lecture at the opening ceremony of the FEMS Congress – with up to five free registrations to the FEMS Congress
the opportunity to present research to the wider microbiology community via the FEMS Journals and FEMS communication channels
a commemorative silver medal
a working replica of an Antonie van Leeuwenhoek microscope 
an honorarium of €1000
Making a nomination
Everyone in the field of microbiology (societies, groups, or individuals) may nominate a Lwoff Award candidate (before 10 March 2020) to be presented at the FEMS2021 Congress
Do you know anyone – either an individual or a group – that has provided outstanding service to microbiology in Europe? Have they done something that deserves recognition? Then why not nominate them for the FEMS-Lwoff Award?
Additional information about the selection procedure can be found in the FEMS-Lwoff Award regulations. You can send your nomination in via the FEMS-Lwoff nomination form.
FEMS-Lwoff awardees

2019 Awardee

2017 Awardee

Prof. P. Cossart, France
Prize Lecture: The model organism Listeria monocytogenes: towards the complete understanding of it physiology and its virulence
Venue: Glasgow, Scotland, 8th FEMS Congress – Watch our interview with Pascale Cossart
Prof. J. Errington, United Kingdom
Prize Lecture: Cell wall deficient (L-form) bacteria: from chronic infections to the origins of life
Venue: Valencia, Spain, 7th FEMS Congress

2015 Awardees

Prof. F. Baquero, Spain
Prize Lecture: Transmission: a basic process in Microbiology
Venue: Maastricht, The Netherlands, 6th FEMS Congress
Date: 11 June 2015
Prof R.K. Thauer, Germany
Prize Lecture: The microbial methane cycle
Venue: Maastricht, The Netherlands, 6th FEMS Congress
Date: 11 June 2015

2013 Awardee

2011 Awardee

Prof. Juan Luis Ramos, Granada
Prize Lecture: Mechanism of Solvent Tolerance in Gram Negative Bacteria
Venue: Leipzig, Germany, 5th FEMS Congress
Date: 25 July 2013
Miroslav Radman, Croatia
Venue: Geneva, Switzerland, 4th FEMS Congress
Date: 30 June 2011

2009 Awardee

2006 Awardee

Karl-Heinz Schleifer, Germany
Prize Lecture:  Classification of Bacteria: From Unicellular Plants to the Age of Genomics
Venue: Gothenburg, Sweden, at the occasion of the 3rd FEMS Congress
Date: 1 July 2009
Jorg Hacker, Germany
Prize Lecture:  Evolution in Microbial Pathogens
Venue: Madrid, Spain, at the occasion of the 2nd FEMS Congress
Date: 6 July 2006

2003 Awardee

2000 Awardee

Prof. Sir David A. Hopwood, United Kingdom
Prize Lecture:  Streptomyces Genes in Nature and Medicine
Venue: Ljubljana, Slovenia, at the occasion of the 1st FEMS Congress
Date: 2 July 2003
Prof. Philippe J. Sansonetti, France
Prize Lecture:  Rupture, invasion and inflammatory destruction of the intestinal barrier by Shigella, making sense of prokaryote-eukaryote cross-talks.
Venue: Sevilla, Spain, at the occasion of the FEMS Jubilee
Date: 15 September 2000
Featured Issue
Ecology and Physiology of Halophilic Microorganisms
This Thematic Issue of FEMS Microbiology Letters contains eight papers based on oral presentations or posters presented at the 12th International Conference on Halophilic Microorganisms – Halophiles 2019, in Cluj-Napoca, Romania. The location for the event recognizes the great diversity of hypersaline environments in Romania and the rich history of the exploration of the microbial diversity in those environments. This Thematic Issue explores the latest developments on the microorganisms living in these unique environments.
read more