Submitting a paper to us soon? You may already know that all but one of our journals are becoming fully Open Access (OA) by 1 January 2024. Make sure you are ready for this change, as from 1 September 2023 all new papers submitted to these journals will be entered into the Open Access pipeline.
FEMS Journals becoming fully Open Access on  1 January 2024: 
We believe that OA is key in supporting our mission of sharing high quality microbiology research as widely as possible – and OA means that no-one needs to pay to read these articles published in our OA journals.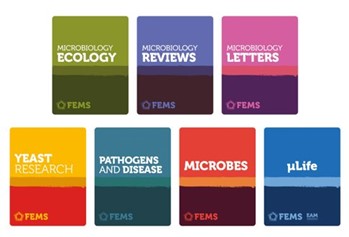 Authors (or their funders or institutions) instead need to pay an Article Processing Charge (APC) or be in a Read and Publish agreement with our not-for-profit publisher Oxford University Press (OUP). This will be reflected in our submission process from 1 September.
We know that not everyone will have access to funds for an APC, or be with an institution that has an agreement with OUP. So whilst we do have a generous waiver and discount scheme, we are also keeping our broad scope flagship journal, FEMS Microbiology Letters, as a subscription free-to-publish journal.
It is an exciting time for our established and trustworthy journals: they will make our rigorously reviewed high quality science available to anyone anywhere in the world – and both readers and authors can rest assured that any surplus revenues generated by our journals are either used to support FEMS in delivering its mission and furthering microbiology, or by our not-for-profit publisher to support academia more widely. 
You can find out more about it by reading our FAQs 
–
We use income from the FEMS Journals to fund grants, awards, and projects, and to support our knowledge sharing events and initiatives. Publish your research with our journals to help the global microbiology community and help us to continue Investing in Science.