Introducing World Microbe Forum, a Digital Meeting of the Microbial Sciences  
Despite physical distancing resulting from the pandemic, microbial scientists will convene digitally for a unique gathering covering cutting-edge, interdisciplinary microbial sciences research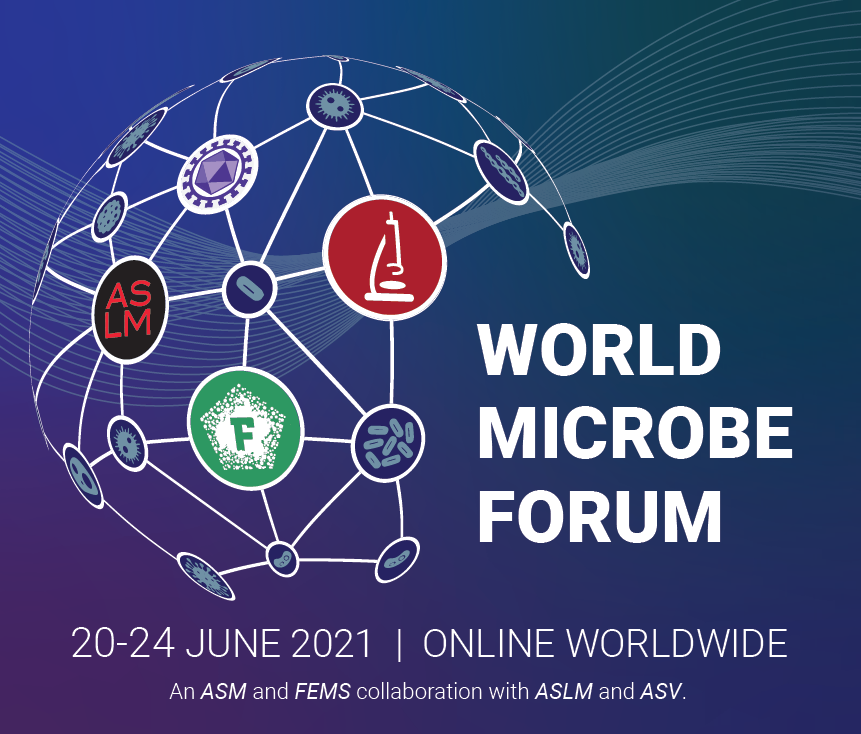 Recognizing that microbial sciences, just like microbes, know no borders, the Federation of European Microbiological Societies (FEMS) and the American Society of Microbiology (ASM) are excited to announce the World Microbe Forum – a collaboration bringing two of the biggest events in the microbial sciences, ASM Microbe and FEMS2021, together.  The forum will take place from 20-24 June 2021. 
Additional scientific societies, including the American Society for Virology (ASV) and the African Society for Laboratory Medicine will partner with ASM and FEMS to build a global footprint in microbiology.
From new infectious pathogens like SARS-CoV-2, to antimicrobial resistance, the role of microbes in climate change, agriculture and food microbiology, to synthetic and applied microbiology – international experts will gather in this one-of-a-kind, special event to examine, discuss and envision solutions that science can offer to solve some of the gravest concerns confronting us today.
This conference offers attendees unparalleled access to the latest innovative research across global perspectives. Attendees will have the opportunity to make meaningful connections with peers from around the world through the versatile and innovative digital platform, which will also allow for casual interactions among scientists. The conference organizers are also excited to offer an advocacy and policy platform to communicate the relevance of microbial sciences to decision makers and the general public.
What does The World Microbe Forum mean for you? 
You access both 

ASM Microbe 2021 and FEMS2021 

events with a

 

single registrat

ion 

 

More

 

high profile

 speakers 

and 

joint ASM-FEMS 

sessions 

covering more new and emerging topics

than ever before 

 

An opportunity to 

meet peers fro

m around the world

 

Cutting-edge public o

utreach training

Access to provocative advocacy and policy sessions

 

Live 

events 

and record

ings

 available for 

later 

viewing

 

The best of both meetings under one virtual roof

 
If your organization is interested in getting involved or becoming a partner, please contact our meetings team to learn about collaboration opportunities.