The Federation of European Microbiological Societies (FEMS) is pleased to announce that from the start of January 2024, four of our established journals will become fully Open Access. Our portfolio will then be made up of six high quality fully open access journals. These four titles join their newer fully-OA sister journals microLife and FEMS Microbes. Only one journal in our portfolio, FEMS Microbiology Letters, will continue as a subscription journal, which remains free to publish in.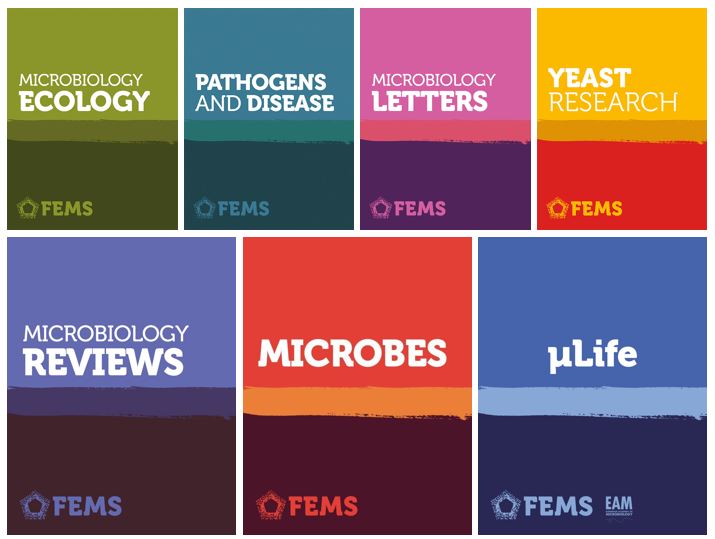 Elise Kuurstra, FEMS Executive Director, said, "We are excited to make this change, and see it as an important step for us in delivering our mission. It allows the high-quality science that we publish to be freely available to anyone to read anywhere in the world – and so supports the advancement of microbiology, which is important to all of us in building a more open and sustainable future." 
The journals that are becoming fully Open Access from 1 January 2024 are:
FEMS Microbiology Ecology

 

FEMS Microbiology Reviews

Pathogens and Disease

 

FEMS Yeast Research

 
FEMS publishes its journals in partnership with Oxford University Press, a not-for-profit publisher that also invests any surpluses from its work back into research and education.   
Jennifer Paxton-Boyd, Publishing Director at OUP, said: "We are thrilled to be working in partnership with FEMS on this important step forward for the portfolio. Open Access is a key part of our mission as a publisher and this collaboration will ensure more scientists and researchers than ever before can access the leading research published in the FEMS journals." 
Patrik Bavoil, the FEMS Director of Research and Publications said, "This decision has taken more than a year of work, and has been crafted consultatively. We have thrived to balance what is best for microbiology and microbiologists everywhere with what is sustainable for both FEMS and OUP, our partners, while also balancing the needs and requirements of individual authors. Together we have created a generous discount and waivers scheme that we hope will enable authors to publish with us: we aim for the threshold for publication in FEMS journals to be rigorous, quality science, not financial resources. It is also why we are keeping our broad scope title, FEMS Microbiology Letters, as a free-to-publish journal to ensure that all authors can publish their research in a FEMS journal irrespective of their financial resources or their ability to access institutional support or waivers".  
He continued, "We want to emphasize that the peer-review process at any of our journals will not change. All FEMS journals remain committed to rigorous and fair review — by active scientists."  
Hilary Lappin-Scott, the FEMS President added, "We are a not-for-profit, mission-driven organization that invests in microbiology and microbiologists, both directly and indirectly, through enabling knowledge exchange and community building. Our journals are run for microbiologists, and by microbiologists, and our wider community have increasingly been asking us to make the work we publish freely available to the world, and I am delighted we are making this step now." 
FAQs: FEMS and Open Access: Embracing an Open Future
About FEMS
FEMS is made up of an active and diverse network of around 30,000 professionals who are committed to advancing microbiology for the benefit of society in the areas of health, energy, food, materials, and the environment.  Set up in 1974, today we are a growing coalition of 56 Member Societies from 40 countries. Around half of those in our network are early career researchers, and others are business partners, scientists or campaigners. 
Our commitment is to help support microbiologists do their work, promote the best in microbiology research and knowledge to the world, and bring microbiologists together to share that knowledge. 
As a not-for-profit organization, we reinvest our revenues into supporting microbiologists throughout their career, publishing and promoting scientific research in our journals and organizing events to bring scientists together.  Our Members are vitally important to our work, and we seek to support them do their work to jointly advance microbiology. 
About OUP 
Oxford University Press is the largest university press publisher of open research. It publishes over 100 fully open access journals, more than 200 open access monographs, and offers an open access publishing option on over 500 journals. The Press publishes almost 2,000 OA articles per month across all major subject areas. 
Oxford University Press has been publishing journals for more than a century and has more than 500 years of publishing expertise.