Name:
Armenian Microbiological Association
Delegate:
Dr. Narine Vardanyan, Doctor of Biological Sciences (D.Sc)
Head of the Laboratory of Geomicrobiology
Scientific and Production Center "Armbiotechnology" of NAS Armenia
0056, Yerevan, 14 Gyurjyan Str., Armenia
+37410 65 41 80
+37410 65 41 83
Armenian Microbiological Association (AM-AMS)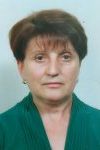 In the Former Soviet Union (FSU) Armenia was one of the basic republics for development of microbiological industry and the complex of scientific and pilot-scale R&D in this field. Priority for development of microbiological industry in Armenia has been challenged by requirements for realization of food program and lack of fuels. The main and basic institution in general and applied microbiology in Armenia was Institute of Microbiology (INMIA) organized in 1961. This Institute was functioning as the lead organization for realization of the Governmental Decisions for development of general, applied microbiology and microbiological industry in Armenia.
The Microbial Depository Center (MDC) with the Institute of Microbiology, National Academy of Sciences of Armenia was located in Abovyan City, in vicinity of Yerevan, the capital of Armenia. The campus of institutions occupied 17 acres, including administrative, research and technological buildings with working space of around 15000 sq. m.
In 2006 the Institute and the Center have been united within the Joint Center of Microbiology and Microbial Depository, NAS of Armenia and in 2010 within the joint s/p Center "Armbiotechnology", NAS of Armenia (Yerevan).
The priority areas are: general and applied microbiology: ecology, systematics and basic metabolism of microorganisms, microbial catalysis and transformations, bacterial insecticides, microbial deteriorations and microbial degradations of space materials. The Center maintains the vast National Collection of microorganisms of scientific and industrial importance, listed around 14000 strains (Afrikian, 1996).
Author: Evrik G. Afrikian, 2014