Bacterial electron transfer processes and their regulation: 11-14 March 2018, France
This meeting, organized as part of the program of the European Federation of Biotechnology Microbial Physiology Section, will bring together an international group of researchers who share interests in bacterial electron transfer. In 2018, the meeting presents the latest breakthroughs in microbial respiration and its regulation with a particular focus on how respiration has been identified in a number of studies at the frontiers of the field. Sessions are organized around different topics, including bioenergetics, metabolism, stress adaptation, respiration of human microbiota, antibiotic resistance, host-pathogens relationship and cell biology aspects.
This conference will promote an integrated and multidisciplinary vision of bacterial respiration, encouraging discussion and exchange of information among researchers from a wide range of scientific disciplines. More than forty interventions are planned including two plenary lectures given by internationally renowned researchers and leaders in their field:
Prof Patricia Kiley of the University of Madison (USA)
Prof Arthur Grossman of Stanford University ( USA)
Added to this is the participation of 17 renowned researchers from 7 different countries (USA, Germany, Italy, Portugal, Great Britain, the Netherlands, France) who have already agreed to give a lecture (Bokinsky G, Boyd JM, Coates JD, Daldal F, Dahl C, Friedrich T, Giuffre A, Jahn D, Kelly DJ, Mullineaux CW, Nitschke W, Pereira MM, Pierrel F, Saraiva LM, Sawers RG, Simon J, Winter S).
Sponsored by: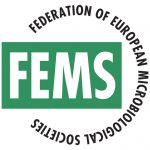 Meeting website