At the FEMS2019 closing ceremony, Bauke Oudega proudly presented the FEMS-Jensen Award 2019: Sarah Jecchin. As a result, Sarah Jecchin will be spending at least half a year in an outstanding research laboratory of her choice, and will receive EUR 10,000 from FEMS to enable this fellowship.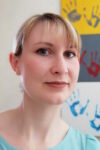 Dr Sarah Zecchin
Research project: Exploring the diversity and arsenic bioremediation potential of microbial
communities living in an acid mine drainage-affected mountain stream
Home institute: Department of Food, Environmental and Nutritional Sciences, University of Milano, Italy
Host institute: Institute for Biodiversity and Ecosystem Dynamics, University of Amsterdam, The Netherlands
FEMS-Jensen Award
The FEMS-Jensen Award is for outstanding European students of microbiology at the final stages of their PhD studies, or those who received their PhD-degree less than three years from the application deadline may apply. Interested candidates are asked to submit their application to the Convenor of the Awards Board (FEMS President) via the FEMS Business Office.
Interested in applying for this award? Find out more on the Awards page.