FEMS-Jensen Award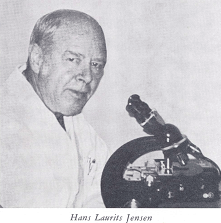 The FEMS-Jensen Award was established to support Early Career Scientists and microbiologists in particular. It is named after the Danish soil microbiologist Dr Hans Laurits Jensen (1898-1977). The award was initiated through a donation by the UK-microbiologist Dr John R. Norris CBE, an Editor of Methods in Microbiology and a former FEMS Treasurer.
Dr Jensen was a tutor of Dr Norris and many other soil microbiologists. He was one the 20th Century's foremost scientists and teachers in the fields of symbiotic and non-symbiotic nitrogen fixation, soil microbiological activity, and the taxonomy of Actinomycetes, Azotobacter, mycobacteria and coryneform bacteria, as well as being a pioneer in microbial degradation of pesticides. Dr Jensen was active in England and Australia, as well as in his native Denmark.
Objective
The award is intended to recognize academic achievement and superior research accomplishments showing significant potential to develop an outstanding research career. The award honours Dr Hans Laurits Jensen for helping young scientists in establishing their scientific career.
Award
The award comprises a fellowship for spending at least half a year in an outstanding research laboratory chosen by the student. The maximum award amounts to EUR 10,000.
Eligibility
Outstanding European students of microbiology at the final stages of their PhD studies, or those who received their PhD-degree less than three years from the application deadline may apply. Applicants should be less than 36 years old at the time of the application deadline.
Frequency
The award will, in principle, be given once every two years. The awardee will be announced during the FEMS Congress.
Application
Interested candidates are asked to submit their application to the Convenor of the Awards Board (FEMS President) via the FEMS Business Office.
Downloadable documents
Deadline
The deadline for the receipt of applications is 1 March of the FEMS Congress year (e.g. 2017, 2019….).
Previous FEMS-Jensen Awardees
FEMS-Jensen Awardee 2010

Dr Aviram Rasouly
Research Project: Defining the genetic basis of intracellular signaling regulating the expression of virulence factors by Pseudomonas aeruginosa
Home Institute: Laboratory of Prof Eliora Ron, The Department of Molecular Microbiology, Tel Aviv University, Tel Aviv, Israel
Host Institute: Laboratory of Prof Stephen Lory, The Department of Microbiology, Harvard Medical School, Boston, USA
Date: February 2010
FEMS-Jensen Awardee 2005

Dr María-Luisa del Rio-González
Research Project:  The role of chemokine receptors in B-cell migration in response to a thymus independent antigen
Home Institute: Arrixaca University Hospital, El Palmar (Murcia), Spain.
Host Institute: Medizinische Hochschule, Hannover, Germany (Prof. Dr R. Förster)
Date: 27 May 2005
Featured article
How did cyanobacteria first embark on the path to becoming plastids?
In the history of life, the most transformative symbiosis was the 'primary endosymbiosis,' wherein a cyanobacterium was engulfed by a eukaryote and became genetically integrated as a heritable photosynthetic organelle, or plastid. Since we cannot travel back in time to witness these evolutionary junctures, Gregory S Gavelis and Gillian H Gile draw on examples of unicellular eukaryotes (protists) spanning diverse modes of photosymbiosis. They also review experimental approaches that could be used to recreate aspects of early primary endosymbiosis on a human timescale.
read more