GRANTS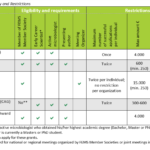 Members of FEMS Member Societies can apply for research grants and/or support when organizing or attending a meeting – including our Member Societies' national and regional congresses. Every year we support meeting organizers and early career researchers and enable experts to share ideas and promote excellence in science.
Our 2015-2019 strategic framework extends our definition of microbiology research to include Member microbiologists in education, policy, business and scientific communication. Further information about the grant opportunities we provide, including application deadlines, can be found on the following pages:Research and Training Grant, Meeting Organizer Grant, Meeting Attendance Grant and Congress Attendance Grant.
APPLY FOR A GRANT
To submit a grant application, please apply via FEMS Grants Online. The summary above outlines the information on eligibility. Links to the documents required to support your application are below.  
DOCUMENTS
When applying for a FEMS Grant, please see the Grants Regulations. During the application process, we will ask you to complete and upload supporting documents. You can find all of these templates in the table below.
Featured article
Lactic acid bacteria: from starter cultures to producers of chemicals
Lactic acid bacteria constitute a diverse group of industrially significant, safe microorganisms that are primarily used as starter cultures and probiotics, and are also being developed as production systems in industrial biotechnology. The aim of this paper is to provide a brief overview of the potential of lactic acid bacteria as biological catalysts for production of different organic compounds for food and non-food sectors based on their diversity, metabolic- and stress tolerance features, as well as the use of genetic/metabolic engineering tools for enhancing their capabilities.
read more