GRANTS
NEW SIMPLIFIED GRANTS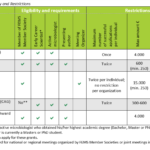 Members of FEMS Member Societies can apply for research grants and/or support when organizing or attending a meeting – including our Member Societies' national and regional congresses. Every year we award hundreds of thousands of euros to help meetings organizers and early career researchers bring experts and earlier career scientists together.
In the light of our 2015-2019 strategic framework – which extends our traditional focus from microbiology research to include Member microbiologists in education, policy, business and the wider public – we have simplified our grants portfolio to accommodate these changes. However, rest assured that all of the grants in our former programme are still available, – albeit under slightly different names.  Have a look at our information about the Meeting Organizer Grant, Research and Training Grant and Meeting Attendance Grant and we look forward to your application.
APPLY FOR A GRANT
Currently, you can apply for FEMS Research and Training Grants via FEMS Grants Online and for Meeting Organizer Grants by sending us the completed documents (below) to grants@fems-microbiology.org.
You can apply for Meeting Attendance Grants starting 1 January 2018 via FEMS Grants Online. Documents for this grant will be available starting 1 January 2018. If you have applied for a Meeting Attendance Grant before 1 November 2017, you can find your application information here.
DOCUMENTS
When you apply for a FEMS Grant, please be informed of the Grants Regulations. During the application process, we will ask you to fill and upload several documents. You can find the required templates in the bottom table.