GRANTS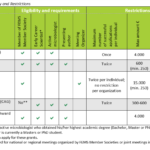 Members of FEMS Member Societies can apply for research grants and/or support when organizing or attending a meeting – including our Member Societies' national and regional congresses. Every year we support meeting organizers and early career researchers and enable experts to share ideas and promote excellence in science.
Our 2015-2019 strategic framework extends our definition of microbiology research to include Member microbiologists in education, policy, business and scientific communication. Further information about the grant opportunities we provide, including application deadlines, can be found on the following pages:Research and Training Grant, Meeting Organizer Grant, Meeting Attendance Grant and Congress Attendance Grant.
APPLY FOR A GRANT
To submit a grant application, please apply via FEMS Grants Online. The summary above outlines the information on eligibility. Links to the documents required to support your application are below.  
DOCUMENTS
When applying for a FEMS Grant, please see the Grants Regulations. During the application process, we will ask you to complete and upload supporting documents. You can find all of these templates in the table below.
Featured article
Klebsiella pneumoniae infection biology: living to counteract host defences
Klebsiella species cause a wide range of diseases including pneumonia, urinary tract infections (UTIs), bloodstream infections and sepsis. These infections are particularly a problem among neonates, elderly and immunocompromised individuals. This review summarises the tremendous progress that has been made to uncover the sophisticated immune evasion strategies of K. pneumoniae. The co-evolution of Klebsiella in response to the challenge of an activated immune has made Klebsiella a formidable pathogen exploiting stealth strategies and actively suppressing innate immune defences to overcome host responses to survive in the tissues.
read more