FEMS Microbiology Letters poster prize: Nan Zhang
We send our congratulations to Nan Zhang, who won the best poster prize at the 3rd Global Soil Biodiversity Conference. This prize is sponsored by our journal FEMS Microbiology Letters.
Nan's poster was titled "The interplay of biotic and abiotic processes that stabilizes soil organic carbon during water erosion". The 3rd Global Soil Biodiversity Conference took place on 13-15th March 2023, in Dublin, Ireland.
Read our interview with Nan about her research below: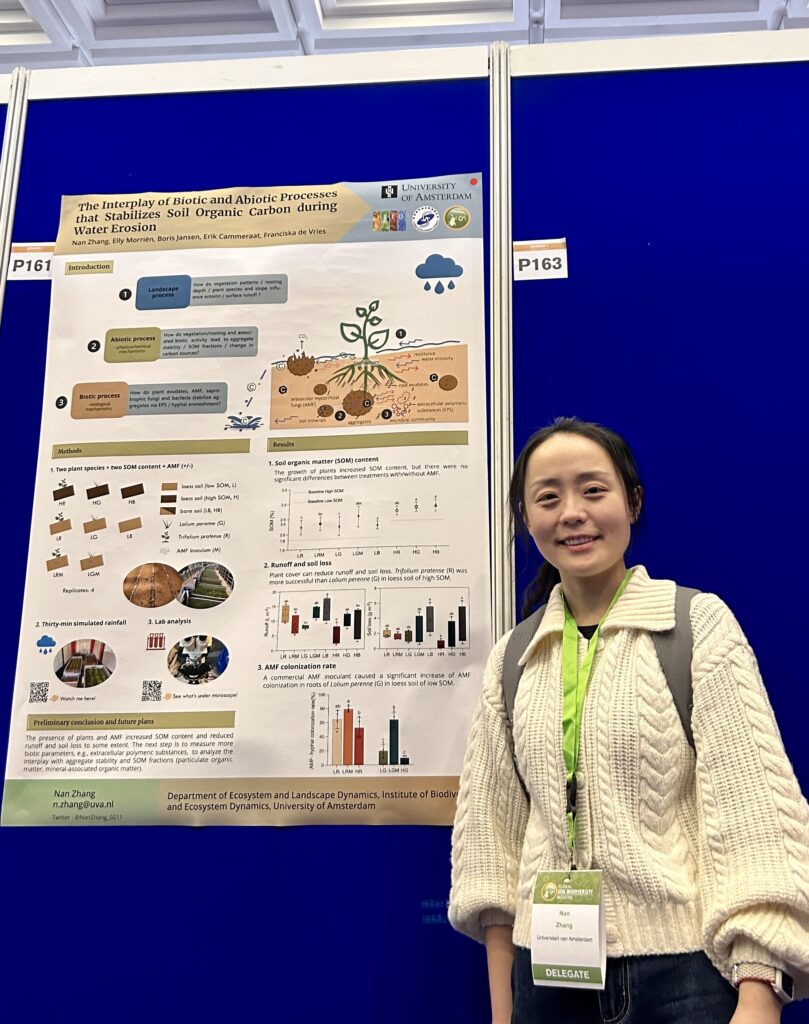 What is your current position, and what was your scientific journey to get there?
I'm now a second-year PhD candidate within Institute for Biodiversity and Ecosystem Dynamics(IBED) at University of Amsterdam in the Netherlands.

I worked on my master project about reducing soil erosion by vegetation strategies in agricultural lands in my home country, China. After the project, I found it was a very practical one and could help improve the local environment. However, it didn't go further to the beneath soil processes which I think would be more instructive and interesting, so I decided to do further study on it.

I know there are many excellent research groups and institutes focusing on soil biodiversity and environment studies in Europe, so pursuing a PhD in Europe became my goal at that time.

Finally, I contacted my supervisor Dr Boris Jansen who is a soil chemist and Dr Elly Morriën who is a soil ecologist at University of Amsterdam. They have an integrating project suiting my background very well, which focuses on the interplay of biotic and abiotic processes that stabilizes soil organic carbon under water erosion.  Then I started working on it in 2021 and I enjoyed it a lot."
Could you describe the research your poster covered?
Soil erosion is a major threat for soil biodiversity. Especially, loess soils in hilly landscapes under intensive agriculture practices face the risk to lose top-soil and valuable soil biodiversity during water erosion. Currently, we lack some fundamental understanding how/if we can protect soil biodiversity from water erosion by stimulating a healthy soil community which will lead to stabilize soil organic carbon(SOC) and increase soil carbon stocks.

Our research aims to unravel the interplay between biological components, i.e. plants, plant-associated microbes (arbuscular mycorrhizal fungi, AMF), soil microbes and exudates of plants and microbes (extracellular polymeric substances, EPS) and abiotic processes in stabilizing SOC during water erosion in loess soil grasslands. We study : i) under which circumstances erosion processes are minimized; ii) which biotic components stabilizes aggregates and increases the adsorption in the mineral phase; iii) in which molecular form carbon ends up occluded in aggregates and bound to minerals.

We set up plant-soil systems with Trifolium pratense and Lolium perenne in loess soil of a low and high SOC content. We grew the plants with mycorrhizal inoculum versus no-inoculum added in soil of low SOC content to test if mycorrhiza is able to prevent soil erosion. Our preliminary results showed that a commercial AMF inoculant caused a significant increase of AMF colonization in roots of Lolium perenne of low SOC soil, while Trifolium pratense was more successful than Lolium perenne in reducing runoff and soil loss.

The project is still ongoing now. We will go further with measuring more biotic parameters, e.g., EPS, to analyze the interplay with aggregate stability and soil organic matter  fractions(particulate organic matter and mineral associated organic matter). We expect there could be a positive relationship between microbes steered by plant exudates and aggregate stability, and we especially hope to reveal the fungal pathway to SOC stabilization.
What do you hope to focus your research on in the future?
I will still focus on the multi-processes that stabilize soil organic carbon, especially the microbial pathways, but will combine the knowledge of soil physicochemical and landscape interactions. I believe such research is necessary to truly understand the carbon storage mechanisms in soils, and can lead to more targeted decisions in land management both in natural and agricultural areas. This is also my original intention when I start my scientific journey.
–
We use income from the FEMS Journals to fund grants, awards, and projects, and to support our knowledge sharing events and initiatives. Consider publishing your research with our journals to help the global microbiology community.
Featured Issue
FEMS Microbes is excited to present its latest thematic issue, focusing on bacterial-viral co-infections. Host and microbial factors are critically important for influencing the severity and outcome of infection. Interactions between microbes is an understudied yet important aspect to this process.
read more