Friday 28 October, emeritus Professor Godfried D. Vogels passed away at the age of 82. Godfried Vogels was a professor of Microbiology and Head of Department at Radboud University Nijmegen. He was an exceptionally well-respected Microbiologist in The Netherlands and abroad with a great knowledge of anaerobic bacteria and gut microbiology. He published many papers, many of which in FEMS Journals.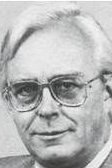 For several years he was a Member-at-Large for FEMS. It was in a time where it became apparent that on the basis of legal conditions the base of FEMS remained in the United Kingdom, but a Central Business Office was established in Delft, The Netherlands. As Member-at-Large he was involved in many activities. He was a member of the Meeting Board and of the Grant Board. In both functions his work was important for many young Microbiologists and Societies around Europe. He was a very gentle and easy going person, but with a strong belief in the power and possibilities of FEMS.
Our thoughts go out to his wife, family and friends in their time of sorrow.
Mike Jetten, Professor of Ecological Microbiology at Radboud University wrote an in memoriam.