Neun von zehn Bieren, die weltweit getrunken werden, sind Lagerbiere und doch wirft die Hefe, die zur Gärung dieser Biere hergenommen wird, immer noch ein kleines Rätsel auf. Die Lagerbier-Hefe (Saccharomyces pastorianus) ist eine Kreuzung aus zwei Elternstämmen: der Bäckerhefe Saccharomyces cerevisiae und der schwer zu findenden Hefe Saccharomyces eubayanus, die erst kürzlich zum allerersten Mal in Europa entdeckt wurde.  Aber wo und wann fand die Kreuzung statt? Die neue Publikation von Hutzler et al. "A new hypothesis for the origin of the lager yeast Saccharomyces pastorianus" in FEMS Yeast Research präsentiert überzeugende Hinweise, dass die Kreuzung der Hefen im Hofbräuhaus von Maximilian I., Kurfürst von Bayern, im Jahr 1602 in München stattfand. Die Hybridisierung fand wahrscheinlich statt, als die obergärige Hefe Saccharomyces cerevisiae versehentlich mit der untergärigen Hefe Saccharomyces eubayanus vermischt wurde, erklärt Mathias Hutzler für den #FEMSmicroBlog. #FascinatingMicrobes
***Laden Sie die PRESSEMITTEILUNG unter diesem Link herunter***
***To the original English version: #FEMSmicroBlog: Where does the lager yeast come from?***
Historiker haben die schwierige Aufgabe herauszufinden, was wann geschah. Das kann noch mühsamer werden, wenn Hefen und nicht (nur) Menschen das Objekt einer Studie sind. Dazu kommt im Falle der Lagerbier-Hefe Saccharomyces pastorianus auch noch, dass der ungefähre Ursprung dieser Hefe vor über 400 Jahren war.
Die reiche Kultur des Bierbrauens
Zum Bierbrauen braucht man nicht mehr als Korn, Hopfen, Wasser und Hefe. In der Praxis spielten aber auch historische Ereignisse eine entscheidende Rolle dabei Rezepte und Produktionsmethoden der Biere zu formen, wie sie heutzutage getrunken werden, wie die Publikation "A new hypothesis for the origin of the lager yeast Saccharomyces pastorianus" in FEMS Yeast Research beschreibt. So kam eine reiche Vielfalt an Bieren zu Stande.
Die Geschichte des Bierbrauen formte auch die Hefe selbst. Verschiedene Brauchtechniken erlasen verschiedene Hefen. Menschliche Eingriffe (wie Isolierung, Lagerung, Austausch von Hefestämmen, sowie das Animpfen einer Kultur von einer Anderen), Anordnungen von Herrschern (wie das Bayerische 'Reinheitsgebot' von 1516, das Zutaten, Braubedingungen, Lagerung und Verkaufspreis  festlegte), sowie ein glücklicher Zufall spielten eine Rolle in der Geschichte von Saccharomyces pastorianus.
Die Entstehung von Saccharomyces pastorianus war ein wohl ein glücklicher Zufall, nach einer Kreuzung der obergärigen Hefe Saccharomyces cerevisiae mit der untergärigen Hefe Saccharomyces eubayanus. Die Autoren der neuen Hypothese zum Ursprung von Saccharomyces pastorianus nutzten historische Aufzeichnungen und neuzeitliche Phylogenomics um die Geschehnisse, die zur Entstehung der Lagerbierhefe führten, zu entschlüsseln.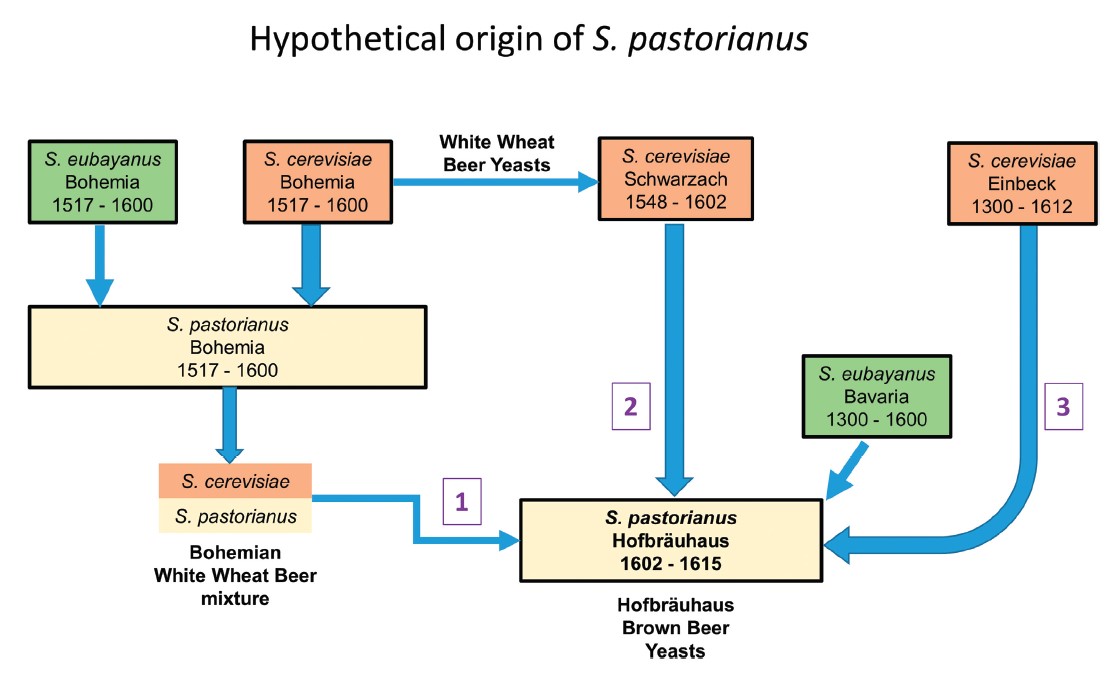 Kultur im Bierglas
Die Studie präsentiert drei Hauptbeobachtungen, die relevant zum Ursprung und der globalen Verbreitung der Lagerbier-Hefe sind, die nun für über 90% der weltweit produzierten Biere verantwortlich ist.
Erstens: Untergärung hatte sich schon vor dem Bayerischen Reinheitsgebot von 1516 etabliert, welches nur Untergärung mit Gerste, Hopfen und Wasser im Stil eines "Lagerbieres" erlaubte. Jedoch dominierten durch Obergärung von Saccharomyces cerevisiae geschaffene Weizen- oder Weißbiere die Bierproduktion im benachbarten Böhmen. Um den wirtschaftlichen Schaden, der durch die Einfuhr böhmischen Weißbieres entstand, zu verringern, gab der bayerische Herrscher Wilhelm IV. dem Baron Hans VI. von Degenberg im Jahre 1548 das besondere Privileg, in der Grenzregion zu Böhmen Weißbier zu brauen und zu verkaufen.
Zweitens: Im Jahr 1602 starb der Enkel von Hans von Degenberg ohne Erben und der neue bayerische Herrscher Maximilian I. ergriff das Sonderprivileg des Weißbierbrauens selbst und übernahm die Brauereien, die einst der von Degenberg Familie gehörten. Im Oktober des Jahres wurde die Hefe Saccharomyces cerevisiae von den Weißbierbrauereien zum Hofbräuhaus des Kurfürsten in München gebracht, wo Bier mit einer Mischung aus untergärigen Hefestämmen gebraut wurde, die laut den Autoren der Studie auch Saccharomyces eubayanus enthielt. Daher wechselte die Brauerei für einige Zeit zwischen Unter- und Obergärung in den gleichen Gärtöpfen ab. Die Studie zum Ursprung von Saccharomyces pastorianus schlägt vor, dass dies Zeit und Ort der berühmten Kreuzung zwischen Saccharomyces cerevisiae and Saccharomyces eubayanus war; die Geburtsstunde der Lagerbier-Hefe Saccharomyces pastorianus. Diese neue Hypothese steht im Kontrast zur generellen Annahme, dass Saccharomyces eubayanus als Verunreinigung in eine Brauerei gelangte, die hauptsächlich mit Saccharomyces cerevisiae vergor.
Zuletzt zeigt die Studie, wie die Münchener Lagerbier-Hefen die erfolgreichsten Hefen zur Bierherstellung geworden sind.
Es ist irgendwie ironisch, dass es die Unfähigkeit von Hans VIII. von Degenberg war einen Nachfolger zu zeugen, die zur Entstehung der Lagerbier-Hefe geführt hat. Während eine Abstammungslinie ausstarb, begann eine andere. Kein Erbe – aber was für einen Vermächtnis Hans VIII. von Degenberg der Welt hinterlassen hat!" —John Morrissey, Co-Autor von "A new hypothesis for the origin of the lager yeast Saccharomyces pastorianus" in FEMS Yeast Research
Nur der Anfang
Aber die Hybridisierung, die Saccharomyces pastorianus hervorbrachte, war nur der Anfang. Wie ist es möglich, dass ein Stamm, der vor 400 Jahren erschaffen wurde heute immer noch extrem relevant ist, obwohl historisch gesehen die meisten Biere bis vor kurzem direkt vor Ort gebraut und konsumiert wurden?
Die technologisch vorangeschrittenen Braumethoden und die Bereitschaft der Münchener Brauer ihre Erkenntnisse zu teilen haben sicherlich eine Rolle bei der Etablierung der Lagerbier-Hefe gespielt. Hochschulabsolventen, die nach München kamen um die Braumethoden zu studieren, gingen nicht nur einfach so mit neuen Erkenntnissen zurück: sie brachten auch die Hefestämme mit sich. Die Tatsache, dass Saccharomyces pastorianus nicht in natürlicher Umgebung gedeiht, sondern für langfristiges Überleben auf menschliche Vermehrung angewiesen sind, war in der Tat ein Vorteil.
Dann, ab 1883, fingen Brauer an Reinkulturen zu verwenden. Konservierung, Versand und Isolierung von Hefen wurden entscheidend. Zwei Hauptcharaktere waren Emil Christian Hansen (1842-1909), der in Kopenhagen die Isolierung von Hefen durch Vereinzelungsausstriche entwickelte, und Paul Lindner (1861-1945), der in Berlin die Hefeisolierung durch eine Tröpfchen-Methode mithilfe eines Mikroskops entwickelte. Industrielle Prozesse, Standardisierung und kommerzielle Interessen spielten auch eine Rolle.
Max Delbrück verweigerte Hansens Methoden sogar bis 1887, weil er der Meinung war, dass Hefemischungen mit verschiedenen Eigenschaften besser dafür geschaffen sind, bestimmte Geschmacksbilder abzugeben." —aus "A new hypothesis for the origin of the lager yeast Saccharomyces pastorianus" in FEMS Yeast Research
Ab 1900 hörten Brauer auf Hefen umsonst abzugeben. Heute noch sind Hefestämme sehr begehrt und Stammsammlungen wirtschaftlich attraktiv. Brauer und Wissenschaftler sind wieder an wilden Hefestämmen interessiert und da draußen gibt es sicherlich eine gewaltige unerschlossene Vielfalt. Werden in 400 Jahren die Lagerbier-Hefen immer noch von Hans VIII. originaler Hefe abstammen, oder wird eine neue Kreuzung eines vielleicht bis jetzt unbekannten Stammes ihren Platz in unserem bescheidenen Bierglas eingenommen haben?
–
Translated into German by Carolin Kobras from the FEMS Volunteer Translation Team
–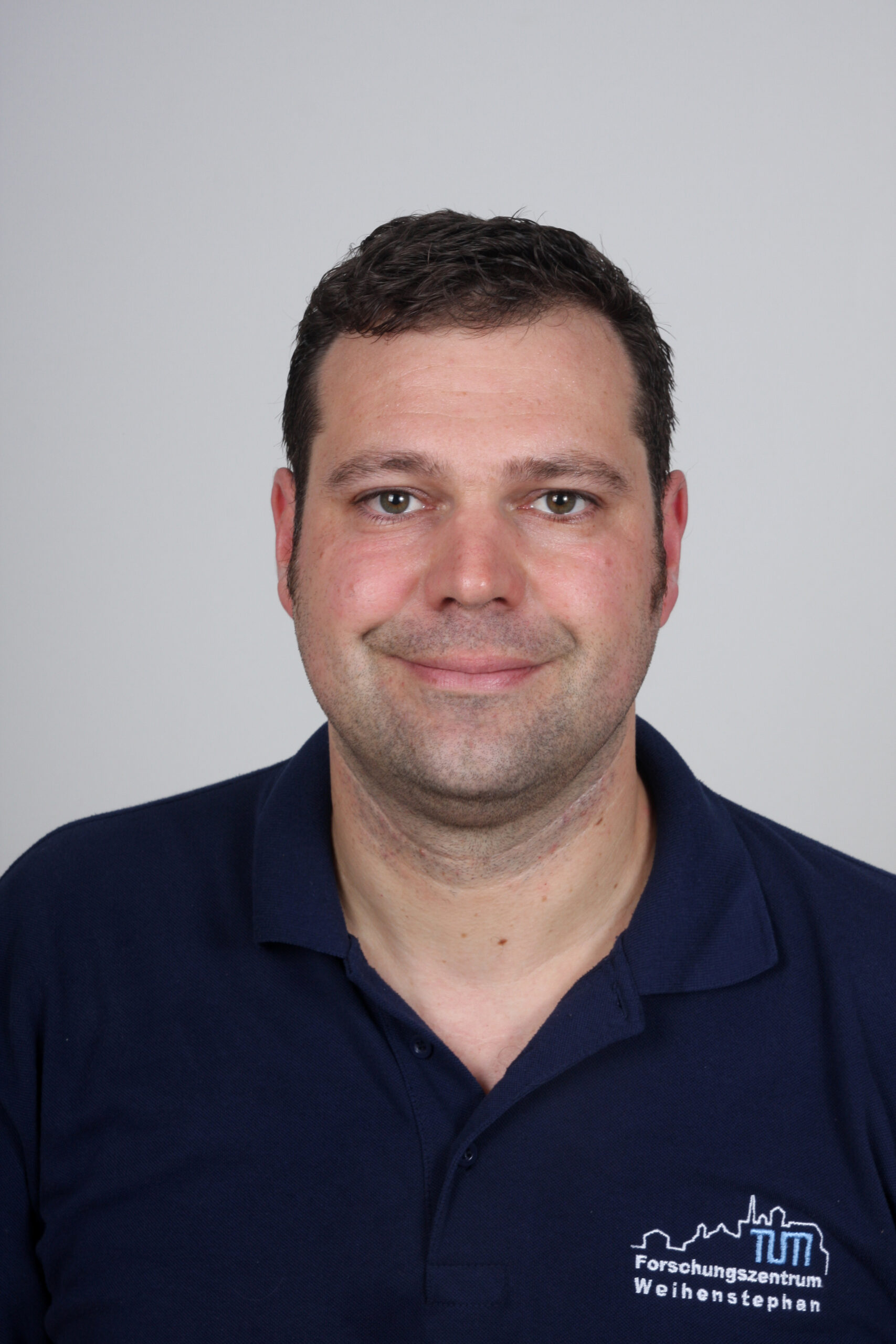 Mathias Hutzler was born in 1978 in Regensburg (Germany) and studied Food Technology and Biotechnology at the Technical University Munich (TUM, Germany). In 2009 he obtianed the Ph.D. at the Chair for Brewing Technology II, Technical University Munich. From 2009 he worked as division manager of the accredited laboratory for brewing/beverage microbiology and the yeast center of the Research Center Weihenstephan for Beer and Food Quality (Germany), and from 2013-2019 he was associate lecturer at the Department of Brewing Science, TU Berlin (Germany). In 2021 he obtained the Habilitation at the Faculty III Process Sciences, TU Berlin (Germany). Since  2022 he is Vice Director of TUM Research Center Weihenstephan for Brewing and Food Quality. Research focus: brewing microbiology, yeast technology, alternative fermentations, starter cultures, historic brewing technology, archeo-fermentation.
About this blog section
The section #FascinatingMicrobes for the #FEMSmicroBlog explains the science behind a paper and highlights the significance and broader context of a recent finding. One of the main goals is to share the fascinating spectrum of microbes across all fields of microbiology.
Do you want to be a guest contributor?
The #FEMSmicroBlog welcomes external bloggers, writers and SciComm enthusiasts. Get in touch if you want to share your idea for a blog entry with us!