This year is the 10th anniversary of the European Antibiotic Awareness Day (EAAD). This European-level campaign was established by the European Centre for Disease Prevention and Control (ECDC) to raise awareness of the threat of antimicrobial resistance (AMR) and to motivate a concerted and collective European effort. EAAD will be on 18 November 2017.
We were invited to the launch event in Brussels on 15 November 2017 to mark this special anniversary and to learn what different organizations across Europe were doing to keep antibiotics working. A key message was the need to move towards a more collaborative 'One Health' approach involving the human, animal and environmental sectors in tackling AMR.
Vytenis Andriukaitis, the Commissioner for Health and Food Safety from the European Commission stressed that "we are all One Health practitioners – it's time to change the paradigm" especially as "700,000 deaths worldwide a year are attributable to antibiotic-resistant bacteria".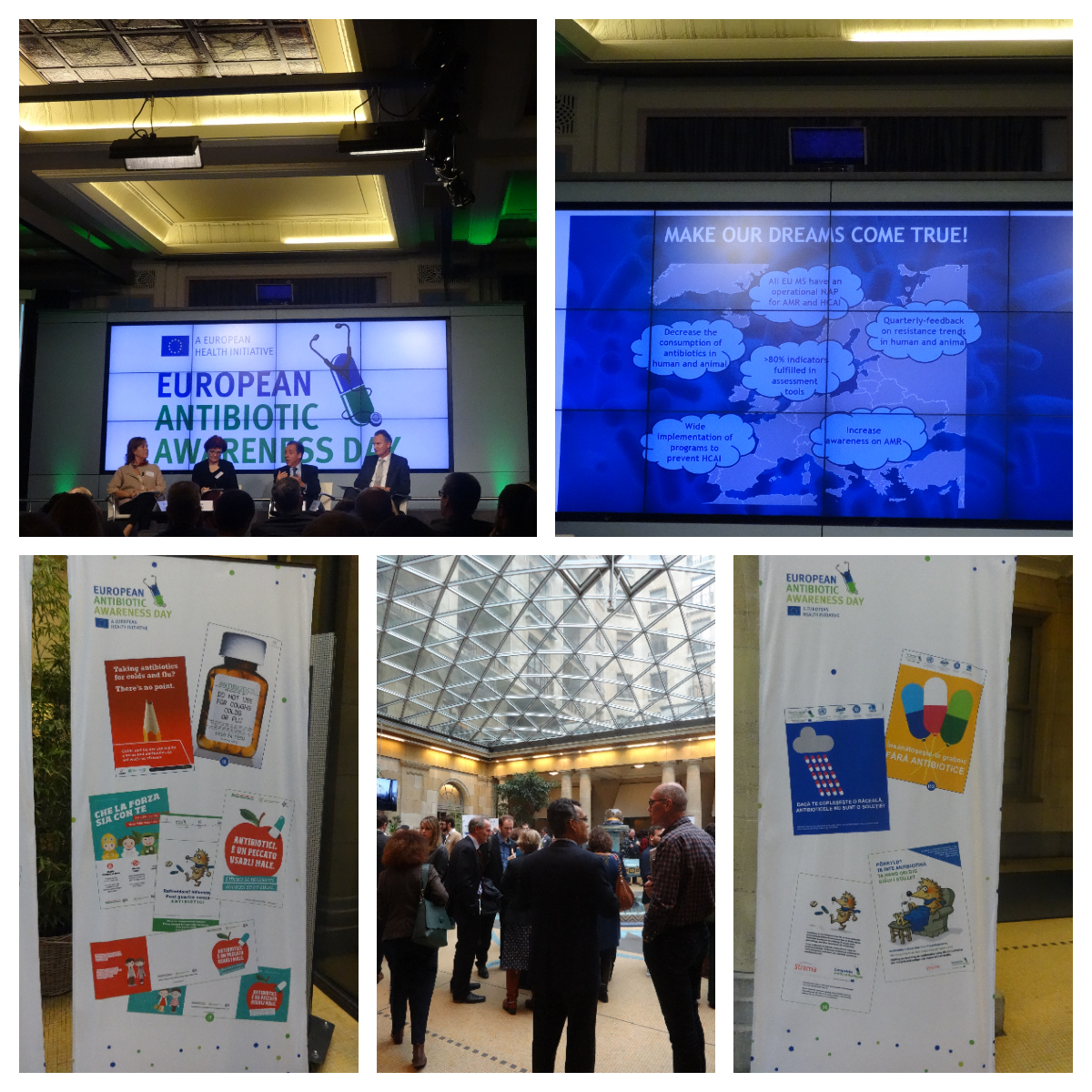 Xavier Prats Monné, the European Commission's Director-General for Health and Food Safety said "One Health is a way to bring together different stakeholders and encourage them to work together… it's a striking message of hope that if we work together we can make a difference in fighting AMR." Whereas Marie-Cécile Ploy from the Joint Action on AMR and HAI (EU-JAMRAI) commented that "all sectors have to be involved: human, animal and environment – AMR knows no borders" and that it was "time to join forces of all key actors to avoid duplicating efforts and to ensure greater coherence in the global movement against AMR."
The need to use antibiotics sensibly and prudently to tackle AMR was emphasized by Nedret Emiroglu, the Director of Emergencies and Communicable Diseases at the World Health Organization (WHO) Regional Office for Europe, who said that "every infection prevented is an antibiotic treatment avoided".
The overarching message was that a joint effort was needed across different sectors to make a difference in AMR, involving collaboration, cooperation and commitment. To see how we are contributing to raising awareness of AMR to the microbiology community, have a look at our video pledge on the EAAD website.