One Health
One Health is an innovative global-wide approach that aims  to tighten the collaboration and communication in all aspects of  human, animal and environmental healthcare into one synergistic body: One Health. The goal is to better understand and overcome current and future issues in all areas of healthcare. By doing so, this will advance research strategies and improve our scientific understanding of the complex mechanisms affecting the environment, human and animal health.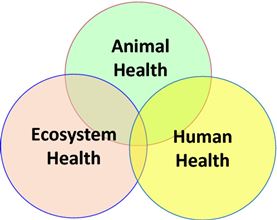 There is an urgent need to control the spreading of infectious diseases, to anticipate and possibly prevent the future threats (i.e. new zoonotic diseases/epidemies). We need to expand our knowledge in order to deal with present and emerging problems at the local, national and global level. Growing antimicrobial resistance, rapidly spreading new zoonotic diseases, air pollution, climate changes, growing demand for food – these are only a few of many challenges that need to be urgently addressed.
The One Health approach would bring benefits to human and animal health in senso lato. It would provide better understanding of
mechanisms of human disorders,
improve control and prevention of infectious agents,
reduce economical losses due to diseases of livestock or crops,
support the international efforts in campaign for sustainable environment.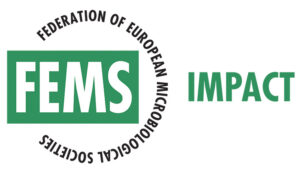 FEMS endorses the One Health Initiative (OHI). FEMS strongly supports the OHI and the call for increased collaboration between the human and veterinary medical communities. Many of our members look forward to seeing more interactions and partnerships between physicians, veterinarians and scientific researchers.  Such collaboration could help find responses to serious societal challenges, such as emerging infectious diseases, pandemics and the transmission of Antimicrobial Resistance. Also, it is crucial for our health and the health of the planet to build a better understanding around the role and fate of microbes and viruses in the biotic and abiotic environment. OHI can show the way to a healthy future.
We want to increase awareness of One Health within the scientific community by facilitating scientific networking, promote collaborative science projects, enhance education, and  increase awareness of this important global initiative to the general public. 
Our Activities
Our One Health campaign is led by our dedicated volunteers, Teja Sirec  and Tomasz Benedyk. Their commitment in raising the profile of One Health to the wider microbiology community is testament to the great impact that our volunteers have.
Learn about One Health 
Thematic Issues
In recognition of the significance of the One Health concept, 2 FEMS journals that publish on the health of humans and that of their environment, Pathogens and Disease and FEMS Microbiology Ecology, are teaming up to organize a joint thematic issue on the theme of One Health .
Get involved
Catch up with the newest revelations and share it with us, open up your mind to other research areas and suggest us new interdisciplinary projects. Think outside of the box!
Interested? Please fill in this form  and check here what we have to offer
Featured article
A protocol for multiple genetic modifications in S. cerevisiae using CRISPR/Cas9
Two methods are described for efficient genetic modification of Saccharomyces cerevisiae using CRISPR/Cas9. The first method enables the modification of a single genetic locus using in vivo assembly of a guide RNA (gRNA) expression plasmid without the need for prior cloning. A second method using in vitro assembled plasmids that could contain up to two gRNAs was used to simultaneously introduce up to six genetic modifications (e.g. six gene deletions) in a single transformation step by transforming up to three gRNA expression plasmids simultaneously. The method is not only suitable for gene deletion but is also applicable for in vivo site-directed mutagenesis and integration of multiple DNA fragments in a single locus.
read more