Do you want to find out a bit more about Bacterfield, the game awarded "Best physical piece" of the #MicrobeArt2021? In this entry for the #FEMSmicroBlog the creators of the game, Isabel Franco-Castillo and Elena Atrián-Blasco, tell the story behind this strategy board game for 2-4 players above 15 years old in which you don't need to know microbiology to enjoy the game, but for sure you'll love bacteria after playing. And if you don't want to miss the opportunity to get a copy, check out the crowdfunding campaign launching very soon. #MicrobiologyIsFun
How it all started
Who said strategy and educational games couldn't come together? This is the idea behind Bacterfield! Bacterfield is a board game that uses bacteria and their behaviour as the main elements of the game to build the dynamics of a classic strategy game.
We came up with this idea of combining the two concepts while preparing an outreach event two years ago, when we realised that almost every outreach activity is mainly focused on the educational aspect, forgetting sometimes about the entertainment.
The life of bacteria is not so different from our own lives: they fight for their territory, they can communicate and they can also get sick. And this was the perfect inspiration to create a strategy game in which bacteria and their behaviour are the main elements.
Fun in the making
The first step was to define the strategy, the dynamics and the elements and how everything would interact. There was only one way to do this: play, play and play! After having played so many different board games, we came up with the final idea and got to make the first prototype.
Honestly, it was not as easy as it would seem at first! There were so many things to think about! What the design of the board would be and how bacteria would move around it, what kind of cards there would need to be, what the objectives of each player would be and how to make them equally fair to all players as possible… but above all, making it attractive for everyone! Luckily, we had the best allies to achieve this!
After many trials of the game with the help of our friends, we got to the final version of Bacterfield.
So… what does Bacterfield contain? There is a board divided in hexagons, and up to four different players with four different types of bacteria can play. These bacteria are the main element of the game, and they can act as real bacteria by duplicating, acquiring genes, or producing biofilm.
There are also different cards that serve as tools to fight against rival bacteria, by infecting them with viruses, or eliminating them with antimicrobial agents. Now, just get your bacteria and think of the strategy that will help you win the battle!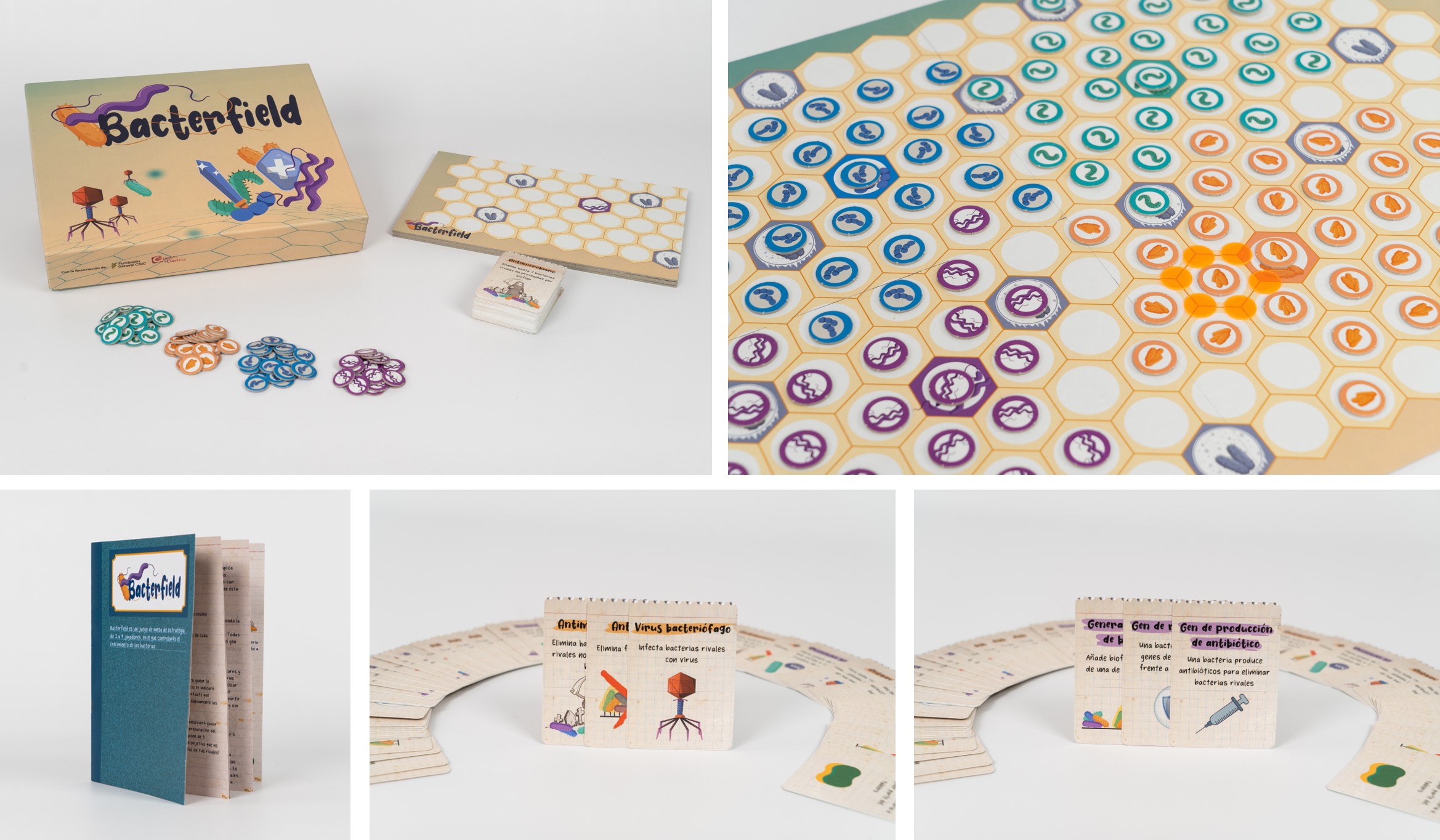 When learning and having fun come together
With this printed version we decided to try the game at different events. First, we started with schools, and with students from 15 years old we saw that they easily learnt basic concepts of microbiology after having played the game.
But Bacterfield is not only meant for schools, we've even taken the game to specialized gaming bars, where people of all ages and backgrounds (no science required!) have enjoyed the game and learnt, for example, what biofilm and antimicrobials are!
As Bacterfield has been a great success so far and people keep asking what they can do to get a copy of the game (unfortunately we only have the few for outreach events), we have prepared a crowdfunding campaign to be launched very soon.
And what about you? Do you also want to enter the fascinating world of microbiology with Bacterfield?
About the authors of this blog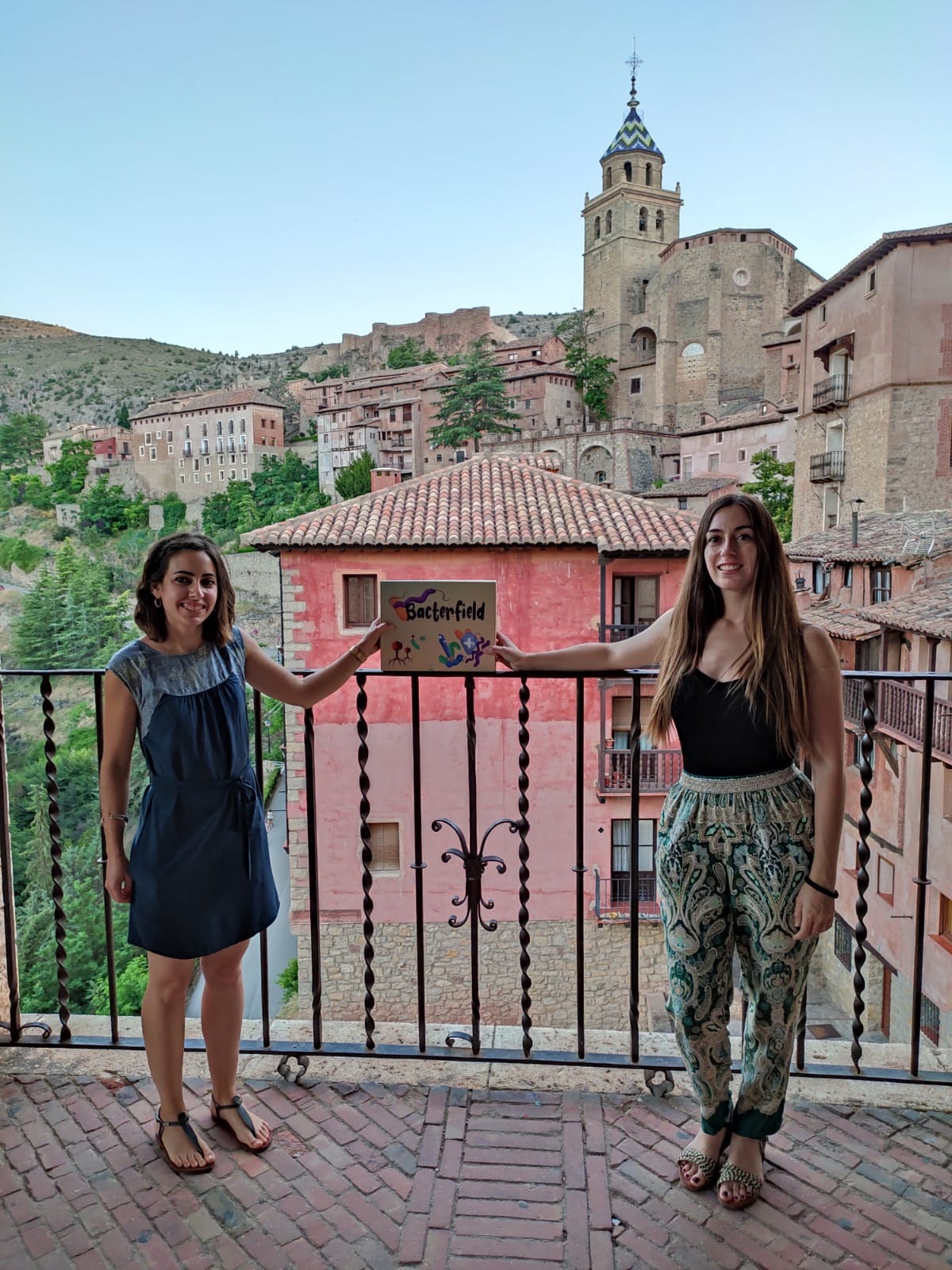 Isabel Franco-Castillo and Elena Atrián-Blasco are two friends from Zaragoza (Spain) who met in the lab but wanted to take bacteria beyond their agar plates! They are both researchers at the Nanoscience and Materials Institute of Aragón (Spain), where Isabel is finishing her Ph.D. on new nanomaterials for prevention of biodeterioration of cultural heritage and Elena is a post-doctoral researcher in antimicrobial materials. Besides their research, Isabel and Elena enjoy participating in outreach activities with Bacterfield as their most ambitious (and enjoyable) project.
About this blog section
The section #MicrobiologyIsFun for the #FEMSmicroBlog highlights the lighter side of microbiology, the fun in doing research, or fun facts about microbiology. It also includes interview with scientists or examples on how playful approaches in communicating science are able to reach a broader audience.
Do you want to be a guest contributor?
The #FEMSmicroBlog welcomes external bloggers, writers and SciComm enthusiasts. Get in touch if you want to share your idea for a blog entry with us!